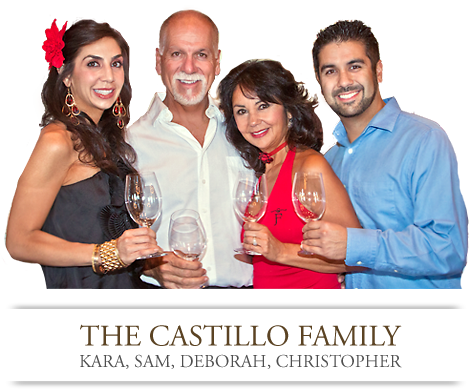 Known by most in Duvall as "Dr. Sam," Castillo has based his dental practice in downtown Duvall since 1981. Not until they saw the land in Walla Walla, which they hope one day to call a home as well as a business venture, did Deborah say "This is for us!" The Castillo's interest in winemaking as a hobby soon became a reality after they purchased 66 acres in the Walla Walla Valley turning Sam's hobby into a full-time dream, "un sueno hecho en ralidad." A dream made into reality.
The couple, who married in 1972, feel the vintners' community has been welcoming and full of resources for winery newcomers like themselves. "It's an adventure we face," Sam Castillo admits with a grin, "sometimes a little scary."
Sam's business acumen will come in handy, they both agree, as well as Deborah's infectious energy and imagination. They look on Castillo de Feliciana Vineyard as a multigenerational venture, a heritage of fellowship for their descendants to share. Their daughter, Kara is putting her Sales, Marketing and Psychology degrees to good use handling that aspect of the winery business as well as working at the dental office. She is also attending classes at the Northwest Wine Academy (South Seattle Community College) to obtain a Wine Marketing Certificate. Their son, Christopher is using his Biology degree, fermentation science and brewing experience to take over the winemaking duties at the winery. He recently graduated from Walla Walla Community College where he obtained his Enology and Viticulture Certificates. Making this a true family business. While many couples think of slowing down, Deborah acknowledges that her husband is not one to ever take life too easily. Appreciating that he is a challenge-seeker, she feels that Castillo de Feliciana Vineyard & Winery is the right place and right direction for them. "I always want to go on to the next level," Sam confesses; retirement is hardly retiring for him.
As plans continue to evolve, the Castillos have envisioned a place for family, friends, and business clientele to enjoy for weddings, and for their eventual home on the rolling hills. The dream of sharing a glass of their own wine with the fellowship of friends, regarding the Blue Mountains, the Walla Walla River, and the immense starry nights is what draws them over the mountain of work yet to be done.